December 29, 2020
2021 New Year's Resolution: Living with Zero Waste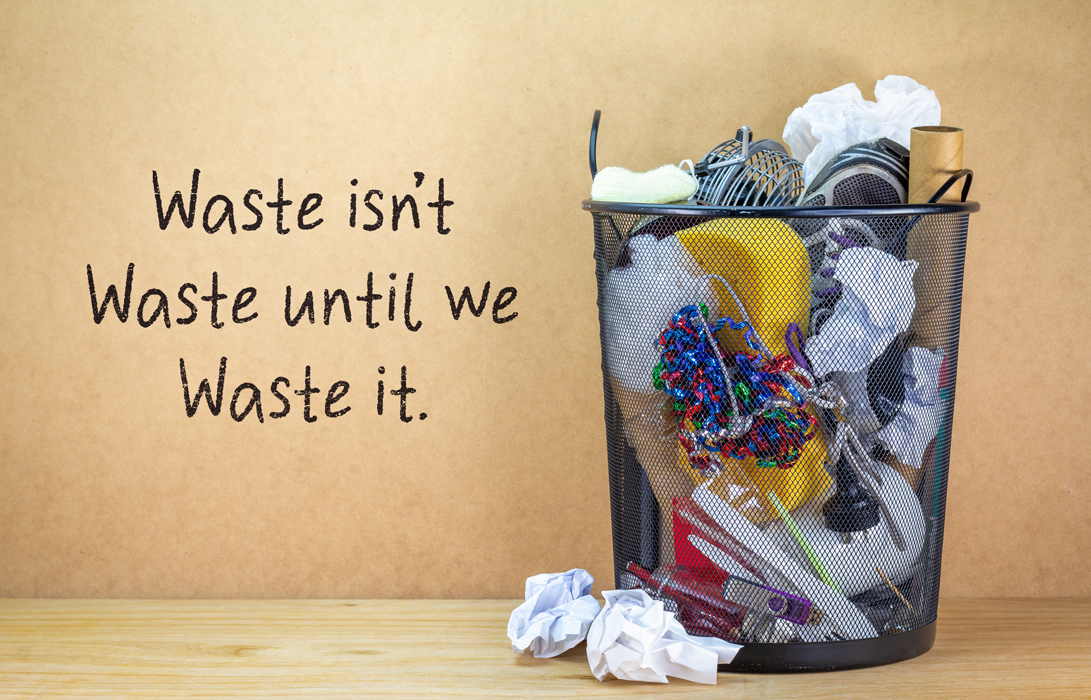 This 2021, aspire to a zero-waste lifestyle despite the pandemic. Here are eight ways how.
What is the zero-waste movement?
A year's worth of trash inside an eight-ounce mason jar: that's the ultimate goal of the zero-waste lifestyle. Little to no plastic and wrappers, and little to no garbage it's a tall order, but you can make 2021 the year you start your zero-waste journey.
Take small steps by following these five principles by Zero Waste founder Bea Johnson:
Refuse what you do not need.
Reduce your overall consumption.
Reuse what you can.
Recycle what you cannot refuse.
Rot or compost the rest.
While public health is the main priority during this COVID-19 pandemic, here are eight ways to go zero waste as you keep yourself and your loved ones safe and healthy.
1. Use reusable face masks.
According to an article in The Environmental Science and Technology (ES&T), a peer-reviewed scientific journal, "Mismanagement of personal protective equipment (PPE) during the COVID-19 pandemic, with a monthly estimated use of 129 billion face masks and 65 billion gloves globally, is resulting in widespread environmental contamination."
If we stitched together all of the masks that have already been produced and projected to be manufactured, we'd be able to cover the entire landmass of Switzerland.
By using reusable face masks, you can help lessen PPE waste. The U.S. Centers for Disease Control and Prevention (CDC) has released a guide to choosing and cleaning a reusable, cloth face mask:
Have two or more layers of washable, breathable fabric.
Make sure it completely covers your nose and mouth.
Ensure it fits snugly against the sides of your face and does not have any gaps.
If you're crafty, you can make your own. Or, you can source them from online stores that are also supporting local communities.
Here are a few options in the Philippines:
If you must wear a single-use mask, dispose of them properly. Cut off the ear loops to prevent animals from getting entangled in them.
2. Use bar soaps.
Frequent hand washing is key to curbing the spread of COVID-19. Be sustainable while staying safe: use bar soaps instead of liquid soap. It's a small, easy switch that makes a big impact.
3. Make your own disinfectant wipes.
You can choose from either bleach- or alcohol-based disinfectant wipes.
Bleach-based disinfectant wipes
Never mix bleach with ammonia, vinegar, or any other cleanser.
Here's what you'll need:
Bleach (at least 1000ppm sodium hypochlorite; make sure it's not expired)
Water
Paper towels or cloths
An airtight storage container
Gloves
How to make them:
Wear gloves and open a window for ventilation.
Mix ingredients in an airtight container with the following proportions:

5 tablespoons for 4 liters of water
4 teaspoons bleach for 4 cups of water

Completely submerge paper towels or cloths in the solution for at least five minutes.
Tightly close the container.
When using bleach-based wipes, keep the surface wet for at least one minute to disinfect it properly. Note that bleach solutions are only effective for disinfection up to 24 hours.
Alcohol-based disinfectant wipes
You will have to dilute your alcohol before using it.
Here's what you'll need:
Isopropyl alcohol or ethanol (also known as grain alcohol)
Water
Paper towels or cloths
An airtight storage container
Gloves
How to make them:
Put on your gloves.
Dilute your alcohol.

For 91% isopropyl alcohol: mix 7 cups of alcohol with 3 cups of water.
For 95% ethanol (grain alcohol): mix 6 cups of alcohol with 4 cups of water.

Put your paper towels or cloths in an airtight container. Fill the container with your alcohol solution until they are completely submerged.
Wait five minutes before using so wipes can properly soak up the solution.
Tightly close the container and store your wipes in a dark, cool place to prevent the alcohol from evaporating.
When using alcohol-based wipes, use gloves to avoid skin irritation. Wet the surface completely. Once the surface dries, it has been disinfected.
4. Use up what you have before buying anything.
Whether it was food, household cleaners, or personal hygiene products, chances are you panic-shopped some time during the pandemic. Before going on a shopping run, examine your supplies, consume what you have, and only then, go shopping.
5. Shop smart and eat well.
Make a list so you don't end up buying things you do not need. Prioritize healthy products and locally-sourced goods. Switch to a more plant-based diet it's better for your body and the planet.
6. Bring reusable shopping bags and containers.
Say no to plastic. Use washable shopping bags and mesh produce bags. Bring reusable containers like ice cream containers for fresh meat, poultry, and seafood. If you must buy items in plastic packaging, buy the largest size possible to reduce package waste.
7. Support eco-friendly stores.
Patronize establishments that let you bring your own bottles and other containers for various purchases. Shop from stores that sell environmentally-friendly products and use plastic-free packaging.
Here are some options in the Philippines:
8. Let your trash be someone else's gold.
Donate your paper and plastic waste or bring them to trash to cash programs. Let others make use of your old clothes, books, and e-waste.
As one of the Top 20 EMS companies in the world, IMI has over 40 years of experience in providing electronics manufacturing and technology solutions. 
At IMI, we believe that humanity drives technology, and we direct our passion at solutions that enhance our way of living.  With more than 400,000 square meters of factory space in 22 factories across 10 countries, we are positioned to build your business on a global scale.
Our proven technical expertise, worldwide reach, and vast experience in high-growth and emerging markets make us the ideal global manufacturing solutions partner.
Let's work together to build our future today.
Other Blogs