January 21, 2021
AI and Creativity: The Algorithm of Art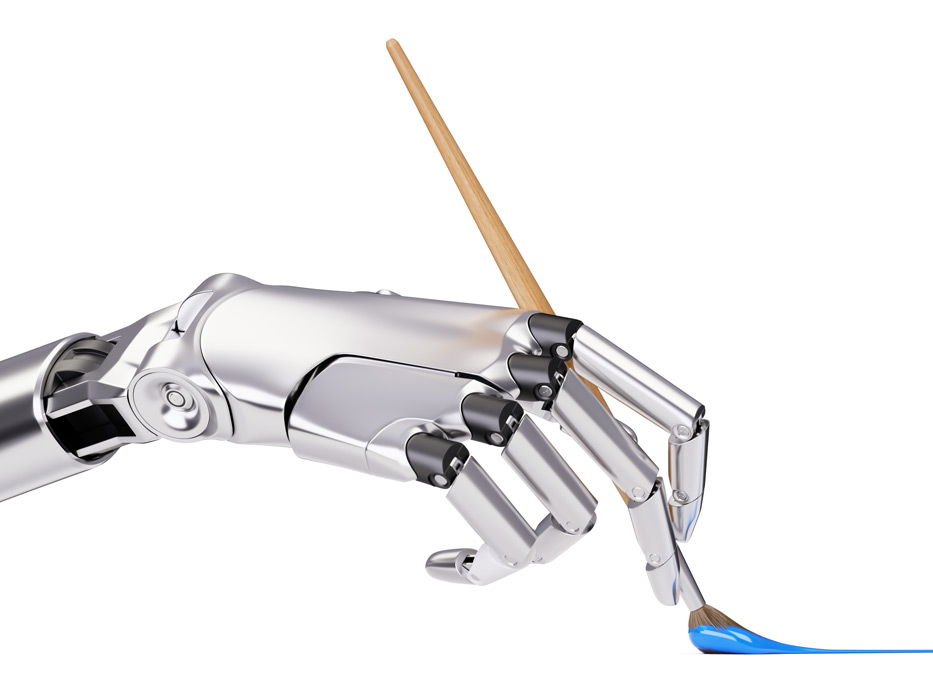 Artists around the world are using artificial intelligence (AI) to create illustrations, music, and choreography. Let's see how technology and art are coming together to enhance creativity.
We've talked about artificial intelligence (AI) in businesses and industries. In this article, we turn our gaze towards AI and creativity. We'll take a look at how machine learning leads to artistic creations and see some fascinating examples of AI in various forms of art.
AI and creativity: how it works
AI art frequently uses algorithms called generative adversarial networks (GAN). How does it work? Let's use creating an image--like a painting--as an example.
An artist chooses a large data set of images and feeds them to the algorithm. Using two neural networks, the algorithm analyzes the images. These two neural networks are "adversarial" because the two work against each other as a check and balance.
One network, the generator, is tasked with creating random images. The second network, the discerner or discriminator, compares them to images in the training set to make sure they match the patterns or styles that the GAN has identified fromthe data set.
These two networks operate in a similar way as the human mind: the right brain (creative) and the left brain (analytical) come together to produce art.
Here are a few examples of how AI is being used in the arts.
AIVA the composer
AIVA composes soundtracks for commercials, movies, trailers, and games. Using pre-set algorithms, you can compose music in pre-defined genres. Or, you can influence AIVA's composition process by uploading your own MIDI file.
Listen to one of AIVA's creations below:
Poems and portraits with Google
With the help of AI, you can create a personalized poem on Google's POEMPORTRAITS. When you type in a word, an algorithm trained on over 20 million words of 19th-century poetry generates a short poem. An added bonus for today's Instagram generation? You can add a selfie in the final "PoemPortrait." It's also a collaborative project: all of the lines of poetry generated become an ever-evolving, collective poem that you can view after your personalized poem is generated.
Estela Vadal, the Filipino poet-robot
Named after the mother of creator Marlon Hacla, a Filipino poet and programmer, Estela prints your photo along with a short Filipino poem. Here's the first stanza of a poem that Estela wrote: "Naghihintay lamang ako sa pag-ibig, upang ibalik ang lahat ng iyong nalimutan (I am waiting for love to give back all that you have forgotten)" 
Check out CNN Philippines' interview with Marlon Hacla in the video below:
AI and children's book illustrations
What's Marlon Hacla up to now? He recently created and trained Ang Alamat ng Panaginip (The Myth of Dream) to create illustrations for children's books. Scanning illustrations from bargain books, Hacla fed them to the AI as source data for generating illustrations.
Paintings by Ai.Da
A brunette with an English accent, Ai.Da is incredibly lifelike. Using AI-based algorithms, an artificial eye, and a robotic arm, Ai.Da can draw, paint, and sculpt. Ai.Da sold more than $1 million in art at an exhibit in Oxford last 2019.
See Ai.Da in action in the video below:
Dance and data
A collaboration between award-winning British choreographer Wayne McGregor and Google's Arts & Culture in Paris, Living Archive compiled nearly half a million movements from the choreographer's 25-year archive. You can then choose poses and connect them to create your own choreography.
"It speaks to this idea that everybody has the opportunity to see movement uniquely and everybody can actually make choreography," says McGregor.
Learn more about this tool for choreography powered by AI in the video below.
AI and artists: enhancing creativity
In the same way that AI is streamlining business operations, it can also enrich the creative process.
"I'm interested in how computational technology can help us understand human creativity. Many examples of creativity involve learning and exploring in a hierarchical style. Neural and multilayer network systems can help us construct different frameworks to better understand those hierarchies, but there's much more to learn and discover," says veteran AI scientist Margaret Boden.
"About 95% of what professional artists and scientists do is either exploratory or combinational, and the other 5% is transformational creativity. At the moment, we don't really have a good understanding of these processes. That's where AI has the potential to play a powerful role," Boden continues.
"In the end, the human really is the one being creative, and it's more about how can you get better efficiencies," says John Smith, IBM Fellow and Manager of Multimedia and Vision at IBM Research. "With filmmaking, 99% of the work is actually very mundane. It's going through hundreds of hours of video in some cases to arrive at the core pieces to use. So there's still a very good reason to use technology as an assistant here, rather than replace the human in the loop."
And while the arts may provoke and be inspired by emotions, it is still a business. Paintings need to be sold and books have to read. Theaters need to be filled and albums need to be bought. AI could also be a valuable intelligence platform in the world of art. Collecting and classifying data, it could identify trends and make personalized recommendations for art lovers. It has great potential to make the creative process more efficient, giving the artist time to focus on what is sometimes the most difficult part of making art--sparking inspiration.
As one of the Top 20 EMS companies in the world, IMI has over 40 years of experience in providing electronics manufacturing and technology solutions. 
At IMI, we believe that humanity drives technology, and we direct our passion at solutions that enhance our way of living.  With more than 400,000 square meters of factory space in 22 factories across 10 countries, we are positioned to build your business on a global scale.
Our proven technical expertise, worldwide reach, and vast experience in high-growth and emerging markets make us the ideal global manufacturing solutions partner.
Let's work together to build our future today.
Other Blogs