September 15, 2020
Employee Spotlight: Lorena Jamon on Thirty Years with IMI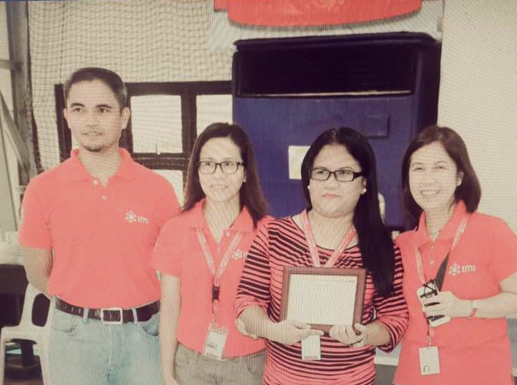 As IMI celebrates its fortieth year, we interview Operative Line Trainer Lorena Jamon on being with IMI for the last thirty years.
In 1990, Lorena Jamon, fondly called Lhory by friends and family, was en route to a pre-employment exam for a quality inspector at a garment factory when she got a call from another company she had applied at. "I was told to report to Electronics Assemblies, Inc. (EAI), a subsidiary of IMI," Lhory shares. "Electronics seemed like a sophisticated, exciting field at that time, so I worked hard on my application. I took the exam, had my final interview, and got the job."
Lhory steadily rose from the ranks, starting her career in IMI as a production operator and working her way up to a quality inspector. Thirty years after that proverbial fork on the road, Lhory is an operative line trainer, responsible for training and certifying operators and ensuring that they produce units with zero defects and with the required efficiency.
"When I first joined IMI, I found my barkada (group of friends) and my best friend," Lhory shares. "It was during my early years at IMI that I fully matured as an adult, and I will never forget the sense of camaraderie I've found here. And the emotional support—IMI has been my shock absorber during the sad moments of my life."
For Lhory, IMI has become not only a place to work, but also a place to grow. From service awards for long-time employees to family days with games and raffles, various employee- and family-focused activities have made Lhory a more self-assured individual. "IMI has helped me get over my stage fright and become more confident to be in front of a crowd," says Lhory.
Comparing the IMI of the past to the IMI of the present, Lhory points out that the company facilities have greatly improved, they have better resources, and employees are even more proactive and competent.
IMI has always believed in investing in the continuous learning of its employees. In 2019, the company launched the IMI Global Learning Management System (LMS), which enables all employees to enroll in relevant online subjects and courses within the curriculum of IMI University. At their convenience, employees can access learning from anywhere, anytime.
IMI has also started its cloud-computing journey using Software as a Service (SaaS) and Infrastructure as a Service (IaaS). Automation, analytics, and machine-learning algorithms are increasingly being embedded in IMI factories for quicker, more efficient production, with human operators working to monitor and maintain the systems.
In 2019, despite several rightsizing initiatives and challenges in the market, IMI was able to register an employee engagement score of 92%. The score is 6 percent higher than the Philippine norm and 4 percent above the Global High-Performance Companies norms. The survey results demonstrate IMI's strength in engaging, motivating, and developing our employees.
IMI's commitment to quality and excellence also shows in its Customer Satisfaction (CSAT) overall score of 4.62 points, higher than the target of 4.50 points. The frequency of quality incidents that were reported also fell by 27% way past the target reduction
of 20%. These results point to IMI's initiatives to raise levels of quality across regions despite unfavorable market conditions.
Since her start with IMI in 1990, Lhory has witnessed many economic and political upheavals that affected the company: the First Gulf War and the Asian Financial Crisis of the late 1990s; the dot-com bubble, the Y2K scare, and the global financial crisis in 2008-2009. "I saw that IMI would quickly bounce back after a crisis," says Lhory. "The company would always see to the welfare of those they were responsible for—both employees and customers."
The company's success in the face of such challenges is a testament to its resilience and agility. "Arguably, the electronics industry is among the most volatile markets in the world," says Arthur Tan, Chief Executive Officer (CEO) of IMI. "Yet IMI, a now-global company that started as a Filipino integrated circuit assembler, has become one of the top 20 largest electronics manufacturing services (EMS) companies in the world and the fifth-largest in the automotive EMS space," Tan continues.
It is a history of global excellence that Lhory hopes to continue being a part of for many more years to come. "I have no plans of looking for another job. It would make me sad to leave a company that has come to feel like family to me," says Lhory. "Five years from now, I will still be with IMI because I love IMI dearly. Thank you, from the bottom of my heart, for treating me like family. I hope that IMI has many, many more years as a fair, people-oriented company and that it continues to provide jobs for many people."
As one of the Top 20 EMS companies in the world, IMI has over 40 years of experience in providing electronics manufacturing and technology solutions. 
At IMI, we believe that humanity drives technology, and we direct our passion at solutions that enhance our way of living.  With more than 400,000 square meters of factory space in 22 factories across 10 countries, we are positioned to build your business on a global scale.
Our proven technical expertise, worldwide reach, and vast experience in high-growth and emerging markets make us the ideal global manufacturing solutions partner.
Let's work together to build our future today.