November 26, 2020
Fitness in the Time of COVID-19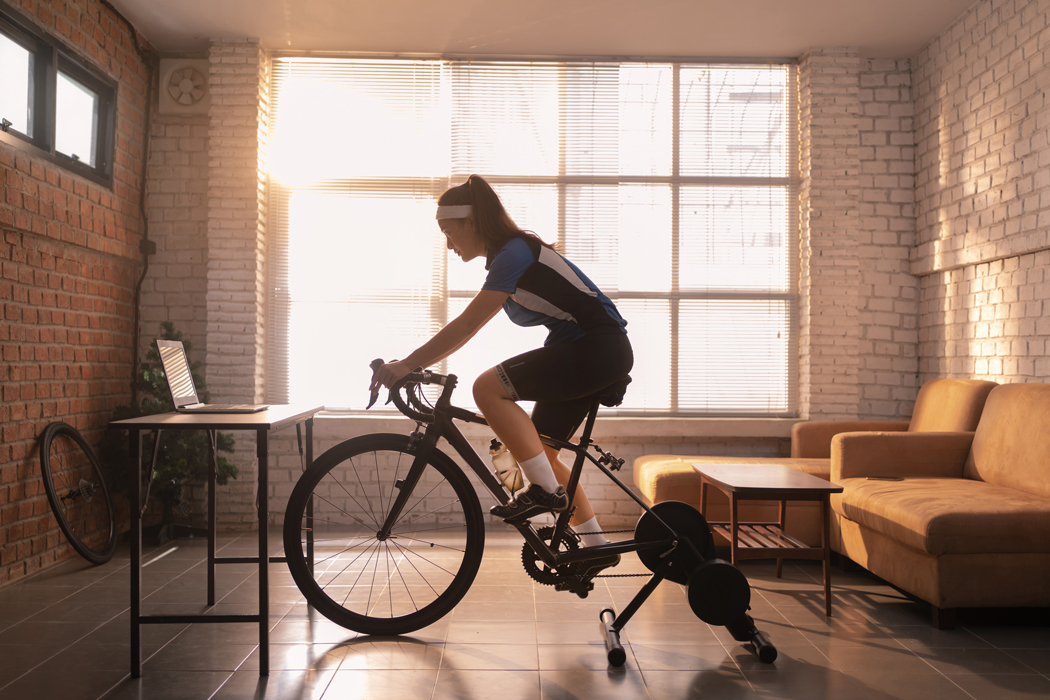 Lockdown measures and physical distancing caused by the pandemic have changed the way people all over the world are exercising. Here's how technology has transformed the way we stay fit.
When gyms and boutique studios all over the world were forced to close because of COVID-19, fitness enthusiasts had to find new ways to keep their heart rates up, their endorphins flowing, and their weight down. We take a look at how digital fitness is changing the way we sweat it out, as well as some exercise and wellness programs you should try out.
Fitness apps and streaming services
As everyone studied and worked from home, they exercised at home as well. Between the first and second quarter of 2020, health and fitness app downloads grew by 46% globally.
In late March, the subscription-based fitness program company Daily Burn saw a 268% year-over-year surge in membership. According to a U.S. survey by aSweatLife, 86% of respondents are using some form of digital fitness. Compare this to their data from January—when nearly  0% of respondents did not use any form of digital fitness at all. Clearly, the pandemic has accelerated digital adoption and innovation in the world of workouts.
Why do we love online workouts?
Convenience. Zero commute and your rattiest gym clothes: digital fitness means you can do your workout any time you can squeeze it into your schedule.
Cost. Whether you're using the free version or paying a monthly subscription, fitness apps are more affordable than a monthly gym membership fee.
Privacy. Not having to worry about what you look like or how well you perform means you're more confident to try new kinds of workouts and stick to them.
Personalized offerings. With digital fitness, you can set your preferences for everything from music and instructor to the type and duration of your workout.
More options. No longer limited by your physical location, you can choose from instructors and programs from all over the world.
Discover your next favorite workout
It's never too late to begin your journey to better health. Here are some apps and online sources to get you started.
If you like variety
Nike Training Club
Choose from 190 free workouts to improve your strength, endurance, and mobility and target specific muscle groups. Virtual workouts range from 15 to 45 minutes.
Fitness Blender
Offering hundreds of full-length workouts and affordable meal plans, Fitness Blender was founded by a husband-and-wife team of personal trainers.
obé Fitness
Choose from more than 4,000 cardio, strength-training, and stretch classes from New York City-based instructors.
Daily Burn
Join group workouts for some social interaction or sign up for one-on-one training. From barre and Pilates to HIIT and cardio kickboxing, you can stream classes from your computer, smart TV, phone, or tablet.
If you want to build your strength
Sweat by Kayla
Get fit with Instagram workout star Kayla Itsines. Her equipment-free resistance workouts are only 28 minutes long. Like it says on her website, you have "zero equipment and zero excuses."
Centr
"Train, eat, and live better with Chris Hemsworth's team." Choose from HIIT, boxing, and strength workouts to unleash the Thor in you.
If you need to find your flow
Find What Feels Good
Adriene from Yoga with Adriene, a YouTube channel with more than eight million subscribers, has created an app that lets you access over 700 videos, including yoga and meditation for all levels.
Beyond Yoga
The largest full-service yoga chain in the Philippines, Beyond Yoga offers livestream classes every day on their Facebook page. Sign up for their digital studio here.
Asana Rebel
With more than 37,000 ratings on iTunes, it's one of the most top-rated yoga apps. Choose from hundreds of yoga workouts and HIIT sessions.
Glo
Choose from over 4,000 on-demand classes in 16 styles for any level to create a personalized yoga program.
If you want to get in fighting shape
Flyweight Boxing
Punch and weave your way to fitness with this boxing studio based in Bonifacio Global City. Check out their online class schedule here.
Electric Studio Rhythm Boxing
Famous for their spin classes, Electric Studio is now offering rhythm boxing classes, where "Fight Club meets night club." Learn more here.
If you had tutu dreams
Ballet Beautiful
Get customized streaming workouts based on your availability and fitness goals, as well as access to Mary Helen Bower's entire library of workout DVDs and an exclusive streaming library of over 350 workout videos.
Sleek Technique
While based on authentic ballet technique, you don't need any dance experience to enjoy their workouts. You can personalize your program by selecting the level, duration, and body part you want to focus on.
Thanks to technology, you have a wealth of workout options at your fingertips. Take advantage by making time in your schedule to become healthier, get stronger, and stay centered.
As one of the Top 20 EMS companies in the world, IMI has over 40 years of experience in providing electronics manufacturing and technology solutions. 
At IMI, we believe that humanity drives technology, and we direct our passion at solutions that enhance our way of living.  With more than 400,000 square meters of factory space in 22 factories across 10 countries, we are positioned to build your business on a global scale.
Our proven technical expertise, worldwide reach, and vast experience in high-growth and emerging markets make us the ideal global manufacturing solutions partner.
Let's work together to build our future today.
Other Blogs