December 4, 2020
Gift Ideas: Smart Home Devices to Light Up Christmas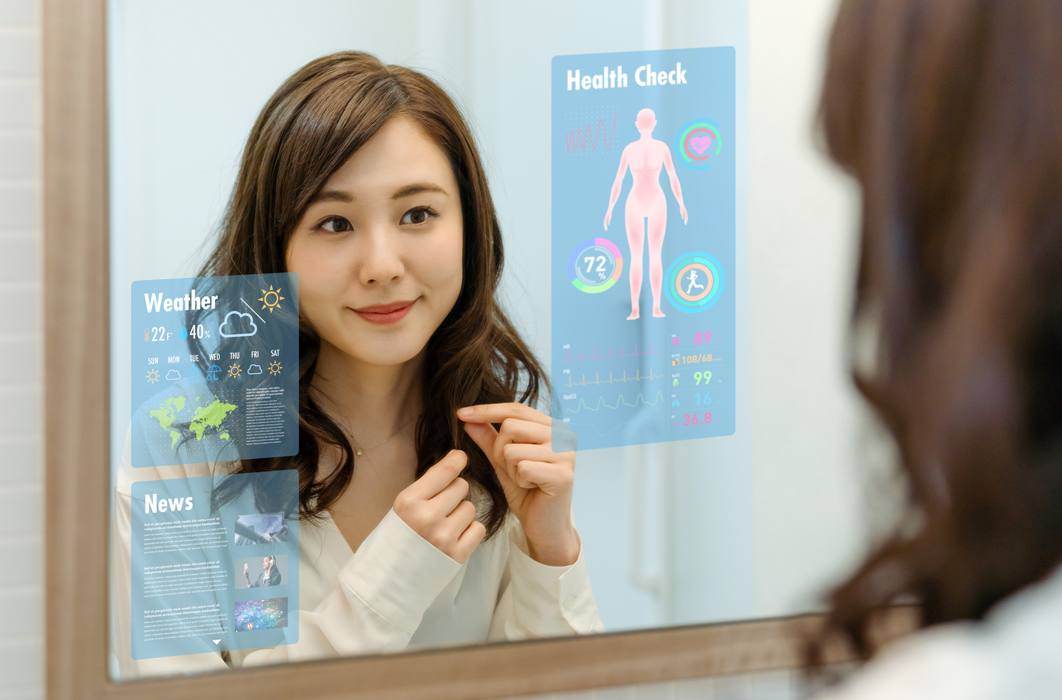 From the front door all the way to the bedroom, here are some smart home gifts for the technophiles in your life.
Because we are spending more time at home these days—especially during the Christmas holidays—what better gift to lighten and brighten a home than smart home devices?
From the front door all the way to the bedroom, "tech" the halls of your loved ones with these smart gadgets. We won't blame you if you buy an extra of each to put in your own Christmas stocking.
Smart home devices for the front door
Smart security camera
Wireless and weatherproof, installation and setup are relatively easy. These cameras can push notifications to your smartphone when they detect events or questionable activities. Depending on the camera, it can send you a text when it detects sound, motion, a face, or all three. There is a range of features to choose from, and most come with an app that allows you to customize notifications, adjust sound and motion sensitivity, and set key areas for monitoring.
Video doorbell
Monitor who comes to your front door in real time, and even if you're nowhere near it. Most video doorbells are Wi-Fi enabled and offer high-definition recording, wide-angle views, motion detection, night vision, two-way audio, and livestream capability to smart devices. Some video doorbells can use your existing electrical wiring system, but there are also battery-powered options.
Smart lock
No more fumbling for your house keys while carrying groceries or wiggling children. No more getting up from your warm bed to double- or triple-check if you locked the front door. With a smart lock, you can lock or unlock your door from afar and grant temporary access to your housekeeper, pet sitter, or a friend who needs something from your home. Choose from keyless, keypad, or fingerprint-activated options. Pick one that works with your existing deadbolt or to replace it.
Smart home devices for the kitchen
Smart instant pot
A pressure cooker, rice cooker, slow cooker, yogurt maker, sauté pan, warmer, steamer, and cake maker—all in one device. What's not to love? Install the mobile app, connect to your Wi-Fi network, and control your instant pot from your comfy couch while you browse through more than 750 pre-programmed recipes. Cooking a delicious meal has never been this easy.
Smart microwave
A microwave is a staple in most homes for quick snacks and simple meals. Level up with a smart microwave. Wi-Fi enabled and compatible with voice control systems, you can start cooking with a touch of your smartphone and receive alerts when your food is ready. You can scan the barcode on packaged food to download cooking instructions. A smart microwave can also suggest customized quick settings based on your routine and most commonly cooked foods.
Smart coffee maker
Start making your cup of joe without even getting out of bed. Use a smartphone app to choose your favorite brew and adjust it to your preferences—the amount of coffee, milk, milk foam, and temperature control. It's like having a barista serving your coffee—without the long lines or getting out of your pajamas.
Smart home devices for the living room
Smart blinds or shades
They extend and retract automatically, providing your home with added security and helping you save energy. They can be controlled via voice commands, a remote control, a smartphone app, or a smart home speaker. Some models have a timer function, allowing you to automatically open and close them several times a day.
Smart home speakers
Play your favorite music or listen to your latest audiobook. Ask about the weather, find out the latest news, get traffic updates, check your calendar events, and set alarms. With voice-controlled virtual assistants built into them, smart home speakers allow you to control smart home as well.
Smart displays
If you need visuals, then a smart display is for you. In addition to accessing information, apps, and services, you can stream videos, pull up security camera feeds, take video calls, and display your favorite digital photos.
Smart home devices for the bathroom
Smart bathroom scales
Going beyond your weight, smart scales can help you track your BMI, muscle mass, and body fat percentage. Connecting your smart scale to companion smartphone apps, you can get visual charts to monitor the progress of your weight-loss program or training.
Smart shower controller
Speed up your morning routine and reduce energy and water usage with a smart shower. Preset, customize, and adjust shower times, temperatures, and duration for multiple users. Control your shower through the display, a smartphone app, or voice command.
Smart home devices for the bedroom
Smart mirror
Get your makeup done in front of a personalized digital hub: a smart mirror controlled by touch, voice, or gestures. Schedule your day, access your favorite apps, get the day's latest news and weather updates, and control smart home devices—all while blending your eye shadow and choosing the perfect shade of lipstick. How's that for efficiency?
Smart bedroom lighting
Set the time you want to wake up, and your smart wake-up light will gradually brighten your bedroom, imitating the sunrise. Combined with your chosen natural sound, it's a gently stimulating way to wake up.
With the Internet of Things, we can give our loved ones greater security, added comfort, everyday convenience, and a wealth of infotainment at their fingertips. Those are wonderful reasons to be home for the holidays—and beyond.
As one of the Top 20 EMS companies in the world, IMI has over 40 years of experience in providing electronics manufacturing and technology solutions. 
At IMI, we believe that humanity drives technology, and we direct our passion at solutions that enhance our way of living.  With more than 400,000 square meters of factory space in 22 factories across 10 countries, we are positioned to build your business on a global scale.
Our proven technical expertise, worldwide reach, and vast experience in high-growth and emerging markets make us the ideal global manufacturing solutions partner.
Let's work together to build our future today.
Other Blogs