November 24, 2020
How Robotics is Transforming Healthcare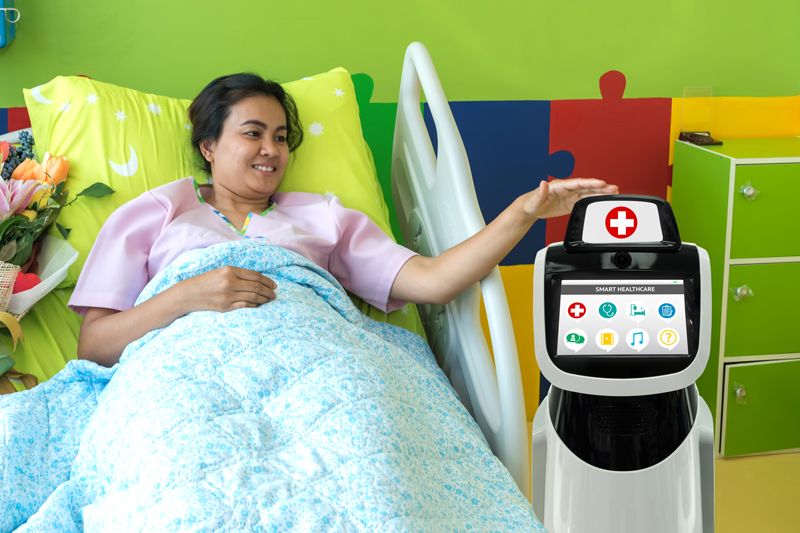 Accelerated by the pandemic, robotics is shaping the field of medicine and healthcare—enhancing hospital and patient services, assisting doctors in surgery and, easing nurses' workloads.
In a hospital in Paris, Pepper uses a tablet so COVID-19 patients in intensive care can communicate with their loved ones. In Israel, patients cuddle with Paro to help reduce stress and feel more relaxed. In Japan, Dinsow reminds elderly patients to take their medication and make time for brain exercises.
In the United Kingdom, Versius assists surgeons with minimal access surgery. In more than 700 healthcare facilities around the world, Xenex is helping disinfect and sanitize spaces to safeguard the health of patients and staff.
From patient care to surgery, robotics is revolutionizing the field of medicine and healthcare. In this article, we explore the applications and benefits of robotic technology in the medical industry.
Types of medical robots
Service robots
From tracking inventory and restocking supply rooms to disinfecting patient rooms and transporting hospital linens, service robots handle routine tasks.
Wearable robots
Exoskeletons can enhance physical rehabilitation and help patients with injuries and other ailments to walk again. These wearable robots can also be worn by healthcare workers to help reduce physical strain.
Social robots
Interacting directly with humans, these robots can be used for long-term care to monitor patients and provide them with social interaction to promote their emotional well-being.
Surgical-assistance robots
According to Intel, there are two main categories of surgeries performed with robotics assistance:
Minimally invasive surgeries for the torso: these include robotic hysterectomy, robotic prostatectomy, bariatric surgery, and other procedures that focus primarily on soft tissues
Orthopedic surgeries: a combination of smart robotic arms, 3D imaging, and data analytics, surgical robotic systems can be preprogrammed to perform common orthopedic surgeries such as knee and hip replacements
(Also read: Man and Machine: Collaborative Robots)
A helping hand in healthcare
In 1985, the robotic system PUMA 560 was used to perform neurosurgical biopsies. More than thirty years later, robots are now also being used in other clinical settings. How are robots enhancing patient care and supporting medical practitioners?
A safer work environment
To curb the spread of COVID-19, more stringent disinfecting and physical distancing measures must be implemented. Cleaning and disinfection robots help limit pathogen exposure and reduce the occurrence of hospital-acquired infections (HAIs).
Increased operational efficiency
From tracking inventory to transporting medical supplies and equipment, robots can streamline tasks, optimize processes, and reduce physical demands on medical workers—freeing healthcare practitioners for more urgent responsibilities.
Improved patient care
As service robots take on their more mundane tasks, medical professionals can concentrate on engaging in an even more empathic, meaningful way with their patients. Through AI-enabled data analytics, sensors, and enhanced vision technology, robots enable surgeons to perform surgeries with greater precision, control, and flexibility. Data analytics can also enhance cancer diagnosis and treatment—detecting patterns and treatment options from volumes of data.
(Also read: How the Internet of Medical Things Can Revolutionize Healthcare)
According to the World Health Organization, the world needs 6 million more nurses to meet global health targets. In the United States, two in five doctors will be over 65 and could retire in the next decade. The COVID-19 pandemic has made it all too clear that there is an urgent need to improve and enhance the global healthcare industry. A helping hand from robotic technology could be the answer.
As one of the Top 20 EMS companies in the world, IMI has over 40 years of experience in providing electronics manufacturing and technology solutions. 
At IMI, we believe that humanity drives technology, and we direct our passion at solutions that enhance our way of living.  With more than 400,000 square meters of factory space in 22 factories across 10 countries, we are positioned to build your business on a global scale.
Our proven technical expertise, worldwide reach, and vast experience in high-growth and emerging markets make us the ideal global manufacturing solutions partner.
Let's work together to build our future today.
Other Blogs