January 19, 2021
The Future of Work: Is Remote Work Here to Stay?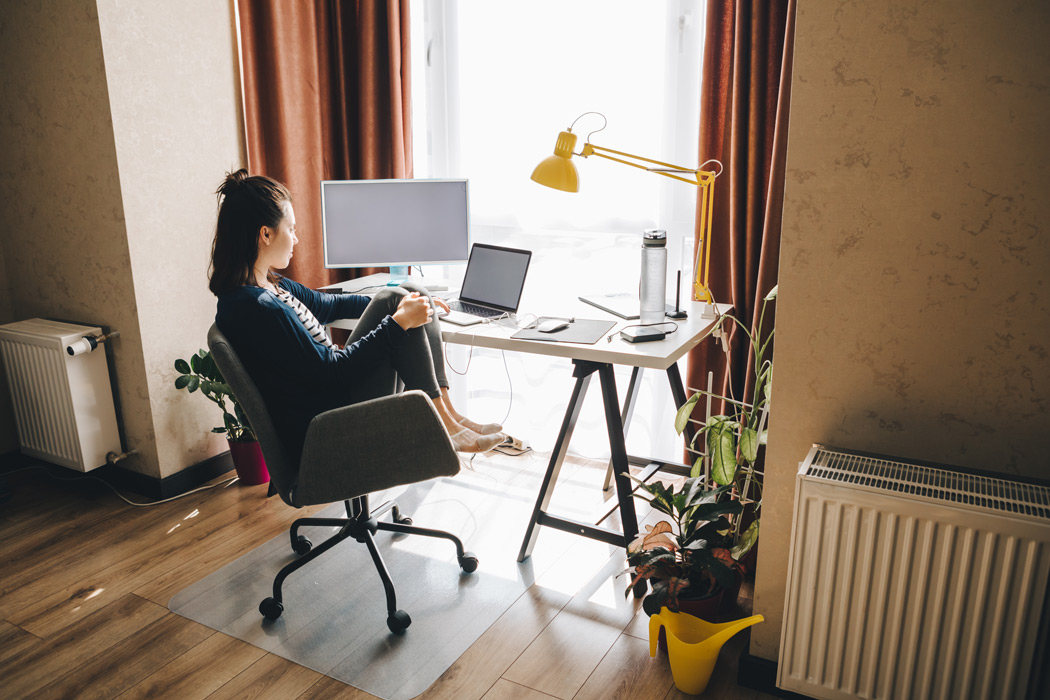 The pandemic transformed where and how people work. Is this change here to stay?
Once seen as the realm of those in the gig economy, 2020 made remote work mainstream. As countries around the world authorize and roll out COVID-19 vaccines, the question on every employee and business owner's mind is: Will remote work continue when the pandemic is over?
We take a look at the pros and cons of telecommuting, put our finger on the pulse of employees' sentiments, and share some expert insights on how you can create your company's telecommuting policies after COVID-19.
The benefits of remote work
From employees to employers to the environment, remote work has its advantages. Employees have the freedom to work for anyone and from anywhere. Not having to travel to the office, they are saving money on transportation costs.
Less commute means a reduction in global carbon emissions, less noise pollution, and cleaner air. Digitizing documents also means less paper usage, another plus for the environment.
Employers benefit, too. With remote work, businesses are minimizing their physical footprint, downsizing offices and spending less money on commercial space rentals.
According to research and consulting firm Global Workforce Analytics, a typical employer can save about $11,000 a year for every person who works remotely half of the time. Working remotely half the time, employees can save between $2,500 and $4,000 a year.
Given all these advantages, should companies shift to a 100% remote workforce?
The downside of remote work
It depends on the nature of your business and how effectively your company can overcome some of the challenges of remote work.
It's not feasible for all sectors
In a recent study, management consulting firm McKinsey analyzed more than 2,000 activities in over 800 occupations around the world to identify which industries have the greatest potential for remote work. Here's what they found:
Finance and insurance have the highest potential, followed by management, business services, and information technology.
Some jobs cannot be done remotely, especially those that require special equipment, machinery, or face-to-face interaction. These include physical or manual activities like caregiving, food service, transportation, using labequipment, operating machinery, cleaning and maintenance, and addressing customer transactions in stores.
On the other hand, tasks that involve teaching and counseling, coding data, and information gathering and processing can be done remotely.
Feelings of isolation and loneliness
In a recent survey by the World Economic Forum, almost half of the respondents felt lonely or isolated when working from home. There are no impromptu interactions to sustain camaraderie and boost morale. Without physical proximity to colleagues, many workers can lose that sense of belonging.
As early as April 2020, Google reported an increase of over 9% in searches related to "team building". While online tools for productivity and collaboration have enabled remote workers to accomplish their tasks, it is hard to replicate the sense of community in the digital space.
Struggling with work-life balance
Surveys on the productivity of remote workers abound, with some reporting an increase in output and others citing difficulties in getting work done. Whichever side of the fence you may be on, there's a huge probability that you are having problems juggling your professional and personal responsibilities.
In a survey conducted by staffing firm Robert Half, 68% of remote employees are working on the weekend, with 45% regularly putting in more than 8 hours a day.
Drawing a line between life and work is difficult when your office and home are in the same place. This can lead to employee burnout, lowering productivity and engagement. It can also take a toll on your mental health.
The digital divide
A recent working paper on telecommuting that emphasizes access to the Internet has shown that in high-income countries, one in three jobs can be done from home. But in low-income countries, it's only one in every 26 jobs.
"Lack of internet access creates another layer of distributional inequality, especially in middle-income countries," says Çağlar Özden, co-author and lead economist in the World Bank's Development Research Group. "While rich people tend to have internet access, poor people may not have access at home. Even if you are a relatively well-educated person whose job can be done from home, internet access determines your fate."
Major companies around the world have announced that their employees will work remotely in 2021--and even indefinitely. In a CFO survey by research and advisory company Gartner, nearly a quarter of respondents revealed that "they will move at least 20% of their on-site employees to permanent remote positions."
Many employees are in favor of this move. In a survey conducted by collaborative technology company OWL Labs and Global Workforce Analytics, 31% of employees willing to take a pay cut of up to 5% to work remotely. Almost 50% would look for another job if remote options were not available.
Weighing the pros and cons of remote work, could the solution be a middle ground?
The hybrid workforce: the best of both worlds
With a hybrid workforce, you get the flexibility of remote work and the sociability of office life. Companies could consider four-day workweeks and six-hour workdays, giving their employees more autonomy in determining their work arrangements. Certain days of the week could be designated for in-office work such as meetings and collaboration while others are devoted to remote work involving individual tasks.
The office could be optimized for interactions that cannot be replicated from home such as creativity, connection, and collaboration--all while prioritizing the safety of employees. At home, companies can support employees by increasing their access to and training in digital tools for productivity, project management, and collaboration.
Companies must also consider the cost implications for remote employees. A dedicated workspace must be ergonomic and have all the necessary equipment to ensure their productivity.
According to a survey conducted by PricewaterhouseCoopers, U.S. executives plan to invest in the following to support hybrid working:
Tools for virtual collaboration: 72%
IT infrastructure to secure virtual connectivity: 70%
Training for managers to manage a more virtual workforce: 64%
Conference rooms with enhanced virtual connectivity: 57%
Hoteling applications: 50%
Communal space in the office: 48%
Unassigned (or hoteling) seating in the office: 45%
Making the shift to a hybrid workforce
How can your company successfully transition to a hybrid workforce model? Here
are four steps outlined by strategy+business:
Redefine the purpose of your office. Identify which tasks are best accomplished at home or at the office. Consider the Six Cs of work that employees do:
Creating work products: data analysis, research, writing documents, and processing orders
Collaborating: brainstorming, problem solving, and developing plans
Communicating: giving status updates, sharing information, giving or receiving feedback, and answering or following up with clients
Coaching: developing employees and giving feedback
Committing: making decisions and committing to actions
Community building or corporate culture: building relationships through interactions that may or may not involve work
Plan work-from-home guidelines. Given their roles and responsibilities, how much time should an employee spend working from home or at the office? Consider classifying your employees based on these four employee personas:
Collaborators: work in teams, but not necessarily in office spaces (research scientists, project managers, engineers, or designers)
Connectors: usually the corporate support staff (IT developers, marketing and public relations, HR specialists, accountants)
Residents: employees who require specific equipment, powerful computers, or customized terminals (traders, engineers, designers, loan processors)
Rovers: client-facing employees who work alone but can work anywhere (consultants or sales executives)
Remodel your office. The office of the future will be primarily a space for collaboration and community building, while also having designated areas for individual work. Companies may also consider the hub-and-spoke model. A central headquarters for important events and meetings, and a network of small regional offices that are closer to where employees live.
Update your ways of working. Before the pandemic, policies and processes were created and implemented with an office-centric perspective. With a hybrid workforce, new standards and guidelines will have to be set and supported by the appropriate tools, technology, and cybersecurity measures.
"Without data, managers may make inaccurate assumptions about employee preferences and broader policy impact," says Eric Anicich, assistant professor of management and organization at the University of Southern California Marshall School of Business. To identify the most viable and effective model for your company, Anicich recommends testing hybrid policies on one department at a time and evaluating its impact on the attitude and performance of your employees.
Success hinges on the ability and willingness to make or adapt to change. The opportunity to reimagine how we work through innovation and technology should not be wasted. For generations, our perspective on work has been chained to a desk and at the mercy of the hands of the clock. Perhaps it's time we set that free.
As one of the Top 20 EMS companies in the world, IMI has over 40 years of experience in providing electronics manufacturing and technology solutions. 
At IMI, we believe that humanity drives technology, and we direct our passion at solutions that enhance our way of living.  With more than 400,000 square meters of factory space in 22 factories across 10 countries, we are positioned to build your business on a global scale.
Our proven technical expertise, worldwide reach, and vast experience in high-growth and emerging markets make us the ideal global manufacturing solutions partner.
Let's work together to build our future today.
Other Blogs