Analytical Testing and Calibration Laboratory is a globally active manufacturing solutions partner, now accredited to the latest ISO17025 ver. 2017. Our expertise in the field of Science and Technology provides rapid solutions and delivers efficient failure analysis, reliability testing, and calibration services while adhering to strict quality standards.
Our laboratory instruments and equipment are designed to provide highly reliable analysis results, for a broad range of industries. We provide the critical analysis information clients need to help run their business and meet quality standards.
Our continuing innovation of our Analytical Testing and Calibration focuses on bringing quality service through adhering to international regulatory bodies, certifications, registrations, and accreditations of industry boards. We aim to go beyond in providing assurance, that our customers' needs are met, and systems are functioning correctly.
Why partner with us
Our Principle:  ATC takes pride in its highly competent, and disciplined professionals employing an established Quality System in accordance with international standards for laboratories. We ensure that every member of our organization maintains the highest standard of ethical and professional behavior to provide quality and timely test results.

Our Laboratory:  Our laboratory houses top-of-the-line testing instrumentations and analytical equipment including Scanning Electron Microscope, Energy Dispersive X-ray spectrometer, Scanning Acoustic Microscope, X-ray Fluorescence spectrometer, Fourier Transform Infrared spectrometer, etc.

Our People:  Our team is composed of highly experienced laboratory personnel with expertise in various fields of sciences and engineering such as physics, material science, metallurgy, chemistry, electrical, mechanical and electronics.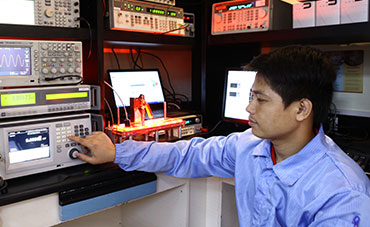 Reliability Test Services
Our Reliability Engineering team provides a wide range of tests and services for environmental simulation and product life profiles. Whether you are carrying out temperature, vibration, humidity, or combined endurance testing, we have the right passive and active tests solution.
We are committed to provide accurate test solutions in designing reliability stress test plans, and in performing accelerated stress test based on international standards in predicting the life profile of the product.
Learn More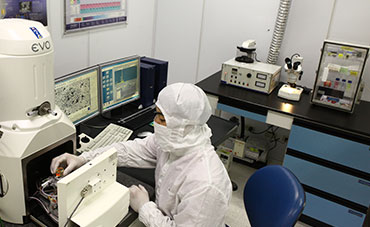 Failure Analysis Test Services
Comprehensive Failure Investigation & Defect Identification by our team of experts
Interdisciplinary approach to identify failure modes & mechanism as caused by the product design, manufacturing /assembly process, materials and from field application.
Valuable insights to foresee and avoid potentiaal problems.
Furnishes key inputs for Risk Assessment.
Learn More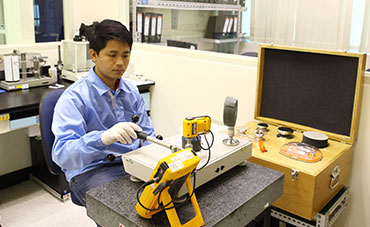 Calibration Services
The ATC-Instrumentation Laboratory provides traceable and ISO/IEC 17025 accredited calibration services across a wide range of industries, which includes electronics, semiconductor, medical, chemical, and aerospace.
The Instrumentation Laboratory has put up high-end equipment and facilities to calibrate electrical, mechanical, thermometry, and physical instruments.
Major aviation and aerospace companies go to the ATC Laboratory for their calibration need most notably torque tools (up to 600 Nm), dimensional tools (crimpers, go/no-go gauges, angle meters), and electrical instruments (including long-range digital multimeters.
Learn More
At IMI, you are assured of collaborative solutions."
CONTACT US TODAY.
LEARN MORE ABOUT OUR CAPABILITIES AND EXPERIENCE
Connect with Us