August 6, 2020
IMI Phil's Non-Invasive Ventilator Solution Gets a Nod from FDA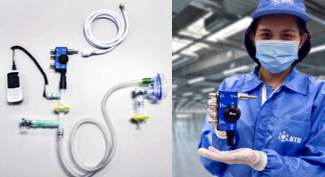 August 6, 2020, Laguna, Philippines. Integrated Micro-Electronics Inc. Philippines, a global multinational company with Filipino roots has officially received certification from the Food and Drug Administration (FDA) for its UCL Ventura Flow Generator, a non-invasive ventilatory support in the management of COVID-19 patients.
The device is a continuous positive airway pressure (CPAP) solution that applies constant steady air pressure and effectively supports patients with breathing difficulties. It was developed based on an existing off-patent CPAP system specifically for the management of those infected with corona virus and at the same time optimize oxygen consumption.  The UCL Ventura is licensed from the University College London (UCL) Hospital and Mercedes-AMG High Performance Powertrains with approval from UK's Medicines and Healthcare Products Regulatory Agency (MHRA).  The MHRA is the executive agency of UK's Department of Health and Social Care responsible for ensuring that medicines and medica devices work and safe.
With the FDA certification, IMI Phils now has the license to manufacture the UCL Ventura Flow Generator to support the government's call for local outsourcing and manufacturing of low-cost ventilators and other breathing aid solutions in caring for COVID-19 patients. The company passed the inspection audit conducted by the FDA last July 10, 2020.
IMI is commemorating its 40th anniversary this month.
About IMI
Integrated Micro-Electronics, Inc. (IMI), the manufacturing arm of AC Industrial Technology Holdings, Inc., a wholly-owned subsidiary of Ayala Corporation, is among the leading global technology and manufacturing solutions expert in the world. IMI ranks among the top 20 in the list of top 50 EMS providers in the world by the Manufacturing Market Insider, based on 2019 revenues. In the automotive market, it is the 6th largest EMS provider in the world per New Venture Research.
IMI specializes in highly reliable and quality electronics for long product life cycle segments such as automotive, industrial electronics and more recently, the aerospace market.
From its 22 manufacturing plants across ten different countries, IMI provides engineering, manufacturing, and support and fulfillment capabilities to diverse industries globally.
For more information, visit www.global-imi.com.
Other News