One of the most important manufacturing techniques in the industry, precision machining is used in the production of many objects that we use in our daily lives.
The process involves removing the excess from any material, allowing it to reach a high level of tolerance, and is especially important in the production of products with many small parts to ensure that they fit together precisely and function properly.
Machinery in precision machining requires the latest tool technology in order to produce high-quality parts. Frequent tools used in the process include milling machines, lathes, saws, grinders, and electric discharging machines along with computer-controlled precision machinery designed to remove substrate material which create finely detailed components and piece parts. High-speed robotics and photochemical processes may also be used in some cases.
Our manufacturing solutions team for precision machining, as part of EMS Electronics Manufacturing Services at IMI is capable of cutting components to your exact specifications. We fabricate and shape various parts of any material into smaller and complicated parts enabling them to fit exactly where they are needed.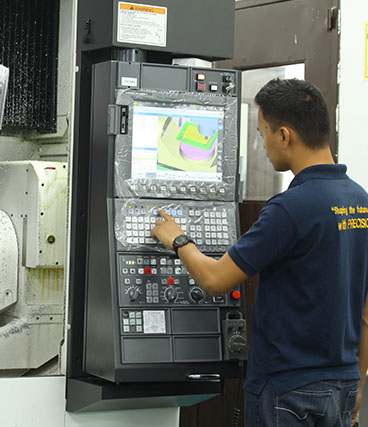 Our processes include:
Material preparation ( vertical and horizontal bandsaw)
Squaring on conventional machines (milling)
Turning for cylindrical parts (bolt, pins and inserts)  lathe machine , CNC turning
Flat shapes , square or rectangular ,  CNC  vertical machining center (3 axis)
Curves and irregular  shapes are don CNC vertical machining center ( 5 axis)
Finishing , grinding and deburring machine
Measurement checking , through the use of Coordinate Measuring Machine (CMM)
Sheet Metal works:
Cutting   -  Hydraulic Shear for cutting flat sheet ( 4 x 8 FT)
Bending -  Hydraulic press brake
We direct our passion at solutions, not just at technology per se."
Arthur R. Tan, Vice Chairman and CEO
CONTACT US TODAY.
LEARN MORE ABOUT OUR CAPABILITIES AND EXPERIENCE
Connect with Us