One of the most important manufacturing techniques in the industry, precision machining is used in the production of many objects that we use in our daily lives.
Our manufacturing solutions team for precision machining, as part of EMS Electronics Manufacturing Services at IMI is capable of cutting components to your exact specifications. We fabricate and shape various parts of any material into smaller and complicated parts enabling them to fit exactly where they are needed.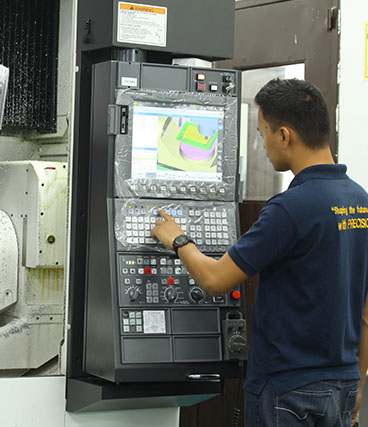 Our processes include:
Material preparation ( vertical and horizontal bandsaw)
Squaring on conventional machines (milling)
Turning for cylindrical parts (bolt, pins and inserts)  lathe machine , CNC turning
Flat shapes , square or rectangular ,  CNC  vertical machining center (3 axis)
Curves and irregular  shapes are don CNC vertical machining center ( 5 axis)
Finishing , grinding and deburring machine
Measurement checking , through the use of Coordinate Measuring Machine (CMM)
Sheet Metal works:
Cutting   -  Hydraulic Shear for cutting flat sheet ( 4 x 8 FT)
Bending -  Hydraulic press brake
Cutting components to your exact specifications
We can fabricate and shape various parts of any material into smaller and intricate parts enabling them to fit exactly where you want them.
Design and fabrication of mechanical parts, fixtures, and related machining activities to support manufacturing at lower cost and shorter lead time.
Modification and preparation of production materials that enhance productivity and address quality issues.
We can expertly collaborate in machine development, automation, systems integration and product development, to reduce project cycle time.
EXPERTISE:  Why choose us  
Seamless execution from concept design to fabrication and machine automation
Complete software solution (CAD, CAM) from design, fabrication and inspection
State-of-the-art, advanced CNC machines
Accuracy level of less than five microns on general dimensions
Databases for WIP, Machine utilization and materials and tools control
Design solution for fixtures, pallets, jigs, and sheet metal works
Experienced and highly-skilled work force
Supports machine design, systems integration and automation
Design and fabrication of mould for plastic injection
Competitive cost and faster lead time
We direct our passion at solutions, not just at technology per se."
Arthur R. Tan, President and CEO
CONTACT US TODAY.
LEARN MORE ABOUT OUR CAPABILITIES AND EXPERIENCE
Connect with Us