For us at IMI, transparency is key. We strive for transparency on how we do business and interact with our stakeholders. This section provides content and links to key corporate information, our financial position, activities and strategies providing our investors with an accurate account of our company's affairs to enable them to make informed decisions.
2016 Annual Report
IMI ensures that the Annual Reports provide information on the company's fiscal year performance as well as highlight the company's activities and achievements in the previous year.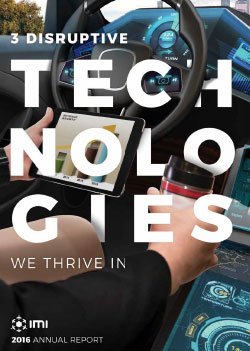 IMI is able to tap different markets and advanced systems globally, providing a complete array of product design, building and manufacturing services while remaining competitive on a global basis."
Arthur R. Tan, Vice Chairman and CEO
CONTACT US TODAY.
LEARN MORE ABOUT OUR CAPABILITIES AND EXPERIENCE.
Connect with us