May 21, 2019
11 Employees Recognized at the 6th IBEX Awards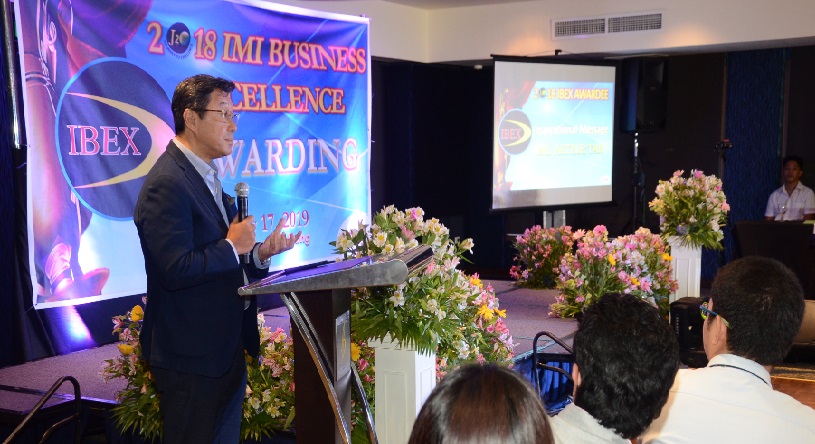 The 2018 IMI Philippines Business Excellence (IBEX) awards night was held last May 17, 2019 at Bellevue Hotel in Alabang, Muntinlupa. A total of eleven awardees were recognized: eight cross-functional teams (CFT) for Level 1 and three were qualified to Level 2, the level equivalent to Commitment and Proficiency.
Level 1: Commitment
Jun Abraham                                      Laguna 1 / CFT 3
Fe Gonzales                                        Laguna 1 / SIIX-IIDA
Andy Dizon                                         Laguna 1 / CFT 2
Noel Gamao                                       Laguna 2 / Semicon
Nelson Galabay                                 Laguna 3 / CFT 1
Joel Pena                                             Laguna 3 / CFT 3A
Jason Hernandez                              Laguna 3 / CFT 3B
Rodel Buan                                         Laguna 3 / CFT 5
Level 2: Proficiency
Ruvie Trajano                                     Laguna 1 / CFT 4
Divine Domangcas                           Laguna 1 / CFT 5
Paul Dela Cruz                                   Laguna 1 / CFT 1
Eleven CFTs were initially assessed internally by the Corporate Quality group based on the following criteria: Quality Result, Human Resource Result, Team Effectiveness and Financial Result. The same teams then went through another rigorous assessment from the external Philippines Quality Award Assessor focusing on enabler approaches in the following areas: Leadership, Customer Focus, Human Resource Focus, Partnership and Resource Management & Process Management.
Addressing the IBEX awardees, Arthur R. Tan, IMI chief executive officer said: "I want to thank each and everyone of you here for your contributions and actions. They are part of the things that drive IMI to where we are going.
"Despite all the things that are taking place in our country these days, even in the world, we have the ability to adapt. You winners have proved that. As we have done over the years, we constantly have to adapt, survive, and more importantly, to thrive. (…) I'm very happy to be here, to be able to celebrate with all of you winners, for being the core of what our company is, and the sole reason, I believe, that we will be able to survive and thrive," Tan reiterated.
"As long as we have a shared vision and adhere to the same level of value system, everything that we do at IMI will ultimately help the world.  And I am sure we also will be able to continue to adapt and perform. As we move forward into 2020 and beyond, it is in your hands now how IMI is going to be. Because we have what it takes-- champions of excellence -- right here in this room," Tan added.
The IBEX Awards, the highest level of internal recognition given to a CFT for exemplary organizational performance, is patterned after two international business excellence standards namely: the Malcolm Baldrige and the European Foundation for Quality Management (EFQM).
Now on its sixth year in the Philippines, IBEX is spearheaded by Dr. Leonorina Cada of Corporate Quality group, and is now raising the bar of excellence and will soon deploy the business excellence model across the various IMI sites.
Other News