April 8, 2019
IMI Now Ranks 17th on Top EMS List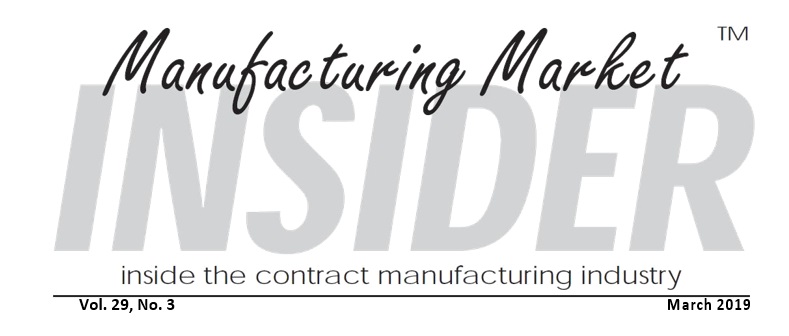 April 8, 2019, Laguna, Philippines —Integrated Micro-Electronics Inc. (IMI), one of the leading global manufacturing solutions experts, today announced that it now ranks 17th in the latest Manufacturing Market Insider's top 50 list of electronic manufacturing services (EMS) companies in the world based on 2018 revenues.
Providing one of the most advanced EMS to the competitive automotive market, industrial market, and many other more manufacturing industries, the company has moved up from its previous rank of 18th in the list for 2017. In 2018, IMI gained one spot to number 17, the highest growth rate among all EMS companies in the global top 20.
IMI recorded $1.35 billion in global revenues for 2018, a 24 percent year-on-year growth.
Manufacturing Market Insider is the first and only publication dedicated to the world of contract manufacturing, also known as EMS.
About IMI
Integrated Micro-Electronics Inc. (IMI), the manufacturing portfolio of AC Industrials, Inc., a wholly-owned subsidiary of Ayala Corporation is among the leading global technology solutions company in the world.  IMI ranks 18th in the list of top 50 EMS providers in the world by the Manufacturing Market Insider, based on 2017 revenues. In the automotive market, it is now the 5th largest EMS provider in the world per New Venture Research. 
 
IMI specializes in highly reliable and quality electronics for long product life cycle segments such as automotive, industrial electronics and the aerospace market.
 
For the automotive segment, IMI delivers customized solutions for safety and security, which includes automotive cameras, electronic control units (ECUs) and advanced driver assistance systems (ADAS). In the industrial segment, it manufactures security and access control devices, power modules, and asset tracking systems, among others. For aerospace, IMI, through its subsidiary Surface Technology International (STI) Enterprise, a UK-based company, has been providing various wireless solutions using satellite communications to address the quality and safety demands in the EMS aerospace market including products to a range of helicopters, multiple fast jet platforms, transport aircrafts and drones.
From its manufacturing plants in the Philippines, China, Bulgaria, Czech Republic, Germany, Japan, Mexico, Serbia, United Kingdom and the United States, IMI provides engineering, manufacturing, and support and fulfillment capabilities to diverse industries globally. For more information, visit our website.
For more information contact ir@global-imi.com
Other News