October 27, 2020
Virtual Voting: Yea or Nay?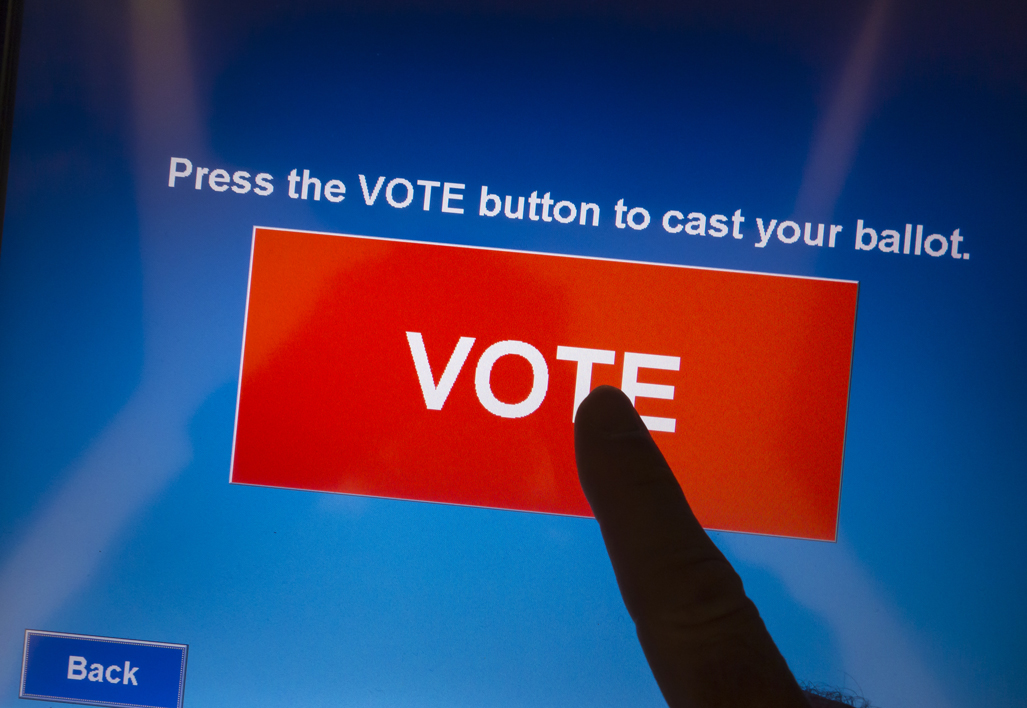 With the 2020 presidential elections only days away, all eyes are on the United States. We look back on the history of U.S. voting methods and take a closer look at the potential and perils of virtual voting.
According to data projections, 150 million ballots will be cast in the 2020 U.S. elections this November—the highest turnout since 1908. Voting is the cornerstone of any democracy, and many Americans are exercising their right to have a say on who should govern them during a time of great uncertainty.
How have Americans voted throughout history?
Let's take a quick look at how U.S. voting methods have evolved in the last two centuries.
Voice voting. Known as viva voce, those with the right to vote—only white males at the time—went to the local courthouse and cast their vote out loud.
Paper ballots. While the first paper ballots began appearing in the early 19th century, they were not standardized or printed by election officials—leading to accusations of voter fraud and appeals for election reform.
The Australian paper ballot. Australia pioneered the first standardized, government-printed paper ballot in 1858. In 1888, New York and Massachusetts were the first states to adopt the Australian paper ballot.
"Automatic Booth" voting machine. The lever-operated voting machine invented by Jacob H. Myers had more moving parts than any other machine of its day, according to Douglas Jones, a computer science professor at the University of Iowa. Myers' invention would dominate American elections from 1910 to 1980.
Punch cards. The first punch-card voting systems appeared in the 1960s. Because these ballots could be counted by computers, vote tallies could be released on election night.
Scanned paper ballots. Scanned paper ballots also hit the market in the 1960s and used the same technology for scoring standardized tests.
Touch screen voting. The Help America Vote Act of 2002 ushered in paperless voting with direct-recording electronic (DRE) machines. First seen as the most accessible and convenient option for voters, it was prone to software bugs and cyberattacks.
Virtual voting: pipe dream or possibility?
We live in a time when nearly everything can be done online. From medical consultations and college classes to shopping and banking, technological advancements have made it easy and convenient for us to get things done via the Internet. Why, then, have voting technologies not developed at the same pace?
"The entire banking industry is based on the premise that if fraud occurs, it can be reversed," Matt Blaze, McDevitt Chair of Computer Science and Law at Georgetown University, told NBC. "That's not true with an election. If the wrong person wins an election and takes office, there is essentially nothing you can do about it if you discover six months down the line the wrong person was sworn in."
Last January, Blaze testified in the U.S. House of Representatives' Committee on House Administration, raising important questions about the security of U.S. voting technologies. In his summary, Blaze wrote, "The architecture of many current electronic voting systems…can give hostile actors interested in disruption an even easier task than that facing corrupt candidates seeking to steal even a small local office. And the consequences of election disruption strike at the very heart of our national democracy."
Technologists, voting experts, and federal government experts all agree: the Internet is not ready for virtual voting.
"Internet voting is one thing that everyone in election security tends to agree on," said Steve Newell, Project Director of the Center for Scientific Evidence in Public Issues at the American Association for the Advancement of Science (AAAS). "There are areas of disagreement, but there's really not much on internet voting. Everyone from the ACLU to The Heritage Foundation to the Brennan Center for Justice is pretty much on the same page here."
At present, "no known technology guarantees the secrecy, security, and verifiability of a marked ballot transmitted over the Internet," according to a 2018 consensus study report published by the National Academies of Science, Engineering, and Medicine (NASEM). From malware  attacks such as spyware, viruses, and Trojan horses to denial-of-service (DoS) attacks, "security vulnerabilities can be exploited to electronically disrupt voting or affect vote counts at polling locations or in instances of remote voting."
"The beauty of the American voting system is that it is dispersed among the 50 states, and it is clunky as heck,'' said then-FBI Director James Comey in 2016. "A lot of people have found that challenging over the years, but the beauty of that is it's not exactly a swift part of the internet of things, and so it is hard for an actor to reach our voting process.''
What has made the Internet a ubiquitous part of our lives—its accessibility, convenience, and connectivity—are the very same qualities that make it vulnerable to attack and disruption. Until technological innovations can guarantee its accuracy, privacy, and security, an online voting system will have to wait.
As one of the Top 20 EMS companies in the world, IMI has over 40 years of experience in providing electronics manufacturing and technology solutions. 
At IMI, we believe that humanity drives technology, and we direct our passion at solutions that enhance our way of living.  With more than 400,000 square meters of factory space in 22 factories across 10 countries, we are positioned to build your business on a global scale.
Our proven technical expertise, worldwide reach, and vast experience in high-growth and emerging markets make us the ideal global manufacturing solutions partner.
Let's work together to build our future today.
Other Blogs