April 4, 2022
Smart Aging: Tech for Senior Citizens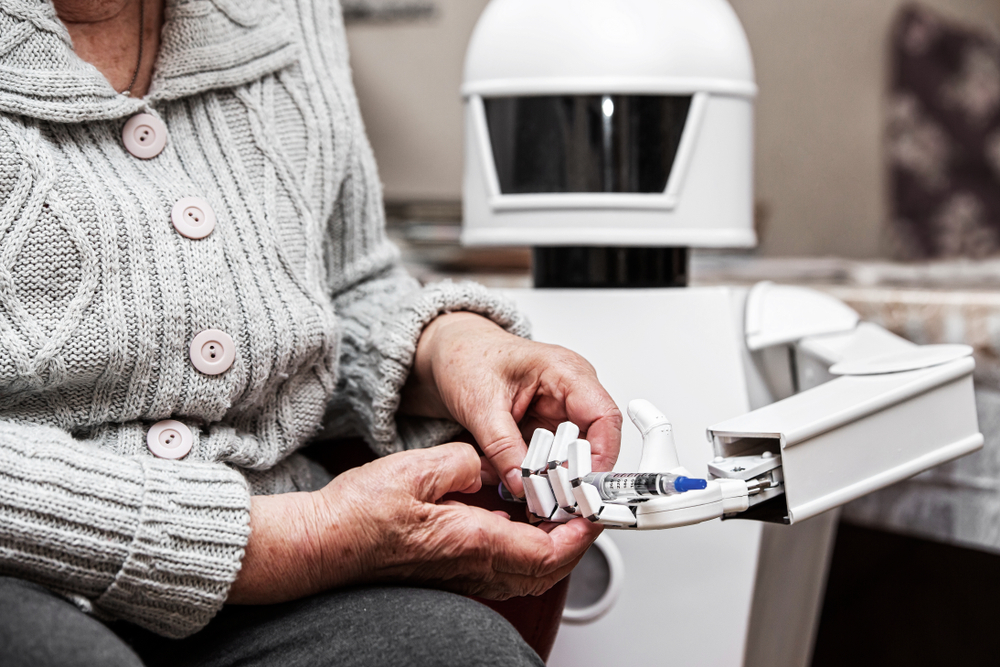 From robots, to apps, to staying more connected, here are some of the latest tech that have been developed to help people live better lives in their advanced age. 
Over the years, science and technology have come together to find ways to slow down time and the aging process. It happens to everybody, and while we all wish for the fountain of eternal youth to be discovered or developed, there are new gadgets, apps, and entire systems that have been made and are still being made to assist our older family members, relatives, and friends. 
These days, more families with older members are choosing alternatives over nursing homes and assisted care living facilities or communities. Not everyone can afford these, and what's more, older family members prefer to remain where they are rather than transfer to a new and unfamiliar place as they age. Aging in place makes better sense when those who are meant to provide care for older family members have peace of mind. And that's where technology comes in. 
(Also read: Rescue Robots: Helping Save Human Lives)
From better ways to address the health of our older loved ones to gadgets that make moving around easier and safer, here are some of the best new tech for senior citizens. 
Built To Care: Robot Caregivers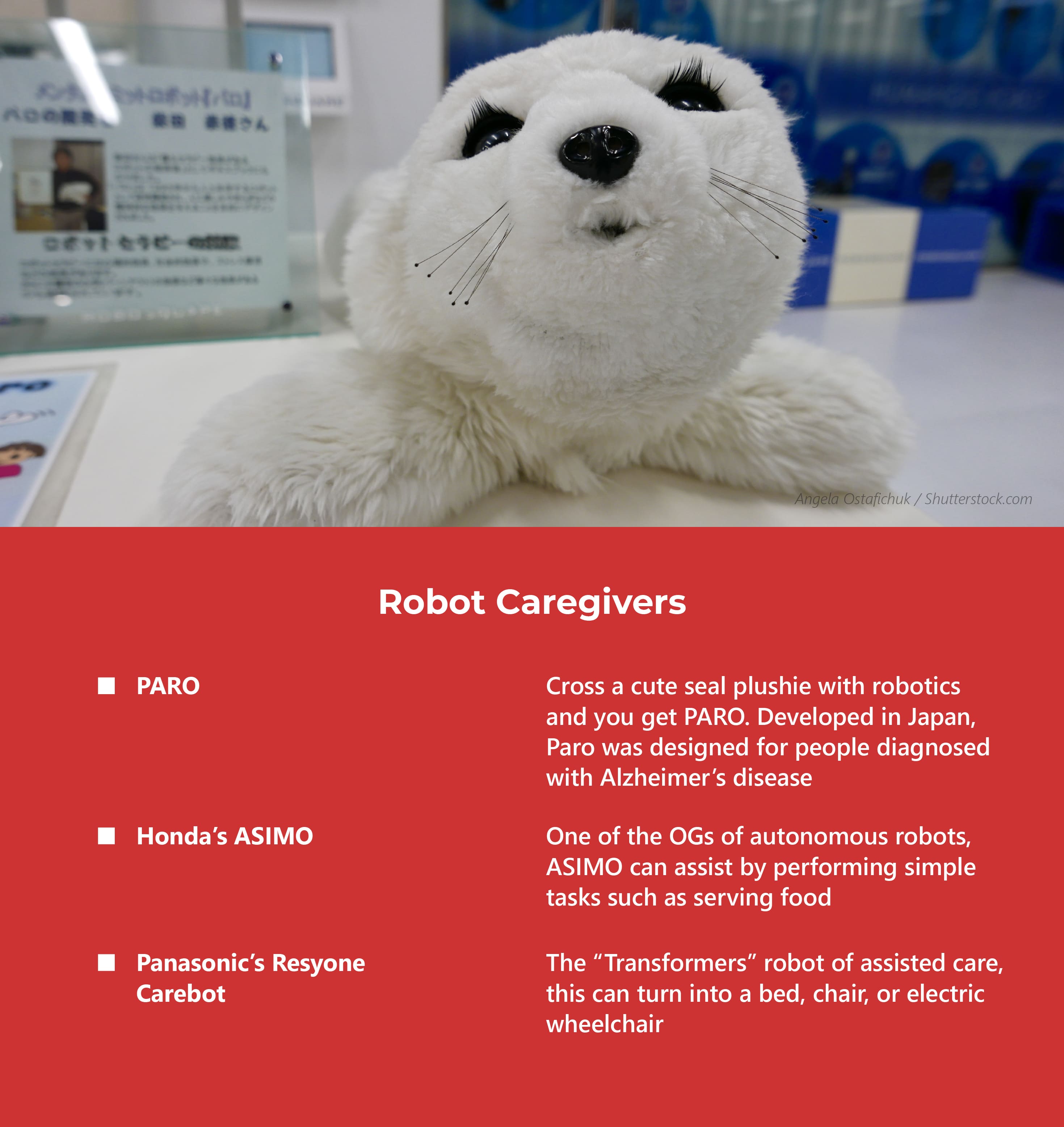 While nothing could ever take the place of the warm, caring touch and smile of a human caregiver, robots can make some of the load lighter and many tasks easier for those caring for their older loved ones. 
In the United States, there are robotic laboratories currently working on robots that help older people exercise safer and more efficiently, and robots that can sense if they need medical help. IBM has MERA, or "Multi-purpose Elder Care Robot Assistant". The robot was developed to help older adults live more independently, thereby providing their caregivers more ease. 
IMB MERA combines robotics, the Internet of Things, and other technologies that are cognitive-powered. It is programmed to measure vital signs, such as heart rate and respiratory rate through a technology that records a person's face; answers basic health questions, and detect if someone has fallen. 
Meanwhile, a friendly robot named Stevie was put on a test run at a military retirement community in Washington DC. Resembling a cartoon robot, Stevie had a rolling base, movable arms, and showed friendly facial expressions through his screen/face. The robot was put in charge of activities for residents such as bingo and was enjoyed by the seniors living there. According to Stevie's maker, engineer Conor McGinn, the robot could do things that are "normally outside of the core expertise or knowledge you'd expect caregivers to have" such as speaking in different languages, for example. 
Better Ways of Caregiving
Health Tech Magazine identified three tech trends for senior care that will see a lot of traction this year. Taking cues from the impact of the global pandemic, the focus of these trends emphasizes changes in how we approach healthcare and access to many medical facilities. An emphasis on hospitals-at-home models topped this list. Many patients felt the impact of being able to save on hospital fees and other costs, as well as feel better cared for in the home environment. This is especially true for older adults. 
Another trend cited was the role of tech concierges for senior patients. The usage of tech among older adults increased during the pandemic. Most were forced to rely on video calls to speak and feel closer to family members who lived far away during this time. Increased use of technology among older adults can sometimes be challenging, as advancements and upgrades for apps are updated almost monthly. 
Many organizations and facilities have recognized the need for a tech concierge to address these specific tech challenges for senior residents in assisted facility communities. These specially trained staff would be dedicated to assisting residents with whatever tech problems or questions residents may encounter with their gadgets. From apps hanging unexpectedly to navigating any device smoothly, tech concierges allow caregivers to focus on their primary tasks for the residents and offer a helping hand to residents stumped or frustrated by glitching or confusing devices and applications. The result? Older people have better enjoyment of the latest technology, whether for their entertainment or to connect with their loved ones. After all, there's no age limit when it comes to video games! 
Lastly, a spike toward wearables and apps is projected to make more waves for senior care. Season Group, an EMS provider based in Hong Kong has partnered with the Senior Citizen Home Safety Association (SCHSA) to create an elderly care home system. 
Behaving much like a home security system, the service is called Care-on-Call. The system covers essentials that every older adult living independently needs: emergency aid, round-the-clock monitoring, health management, and even day-to-day living assistance. 
Care-on-Call is made up of a stationary wireless 4G device with a direct link to the SCHSA's call center, and a handy waterproof Bluetooth button paired with the 4G device. This can be worn by the older family member. One push of a button and SCHSA is alerted immediately, sending over the emergency assistance the family member may need. The system is slated to be launched this year.
Empowering the Elderly
Many of us worry about our aging parents and would want the best care available to them. Being able to do this without having to give up other obligations and activities that need our attention is a godsend. With these advancements in technology, our elder family members have more options in terms of their mobility and overall agency without making their caregivers worry needlessly. Their quality of life can be vastly improved if they have others available to help them enjoy, understand, and navigate their devices better. Thanks to these innovations that put their needs into thoughtful consideration, the quality of their lives, be it offline or online can be enriched and even bloom.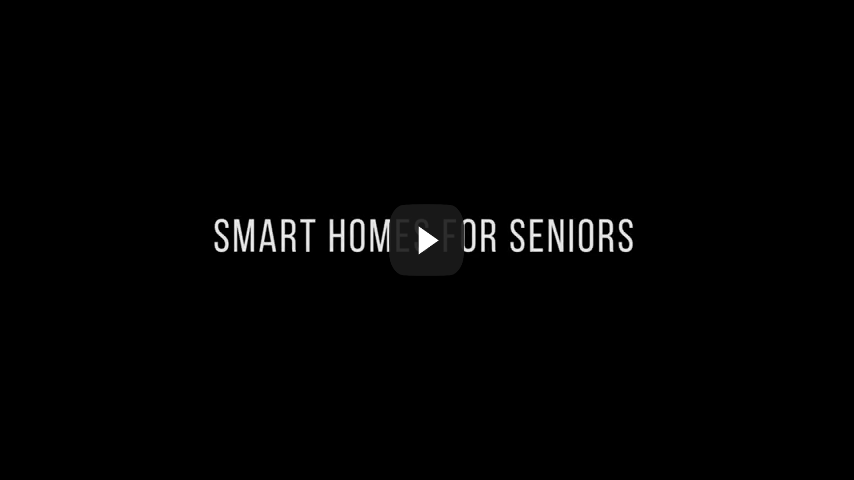 As one of the Top 21 EMS companies in the world, IMI has over 40 years of experience in providing electronics manufacturing and technology solutions. 
We are ready to support your business on a global scale.
Our proven technical expertise, worldwide reach, and vast experience in high-growth and emerging markets make us the ideal global manufacturing solutions partner. 
Let's work together to build our future today.
Other Blog