March 15, 2022
Is Telehealth Here to Stay?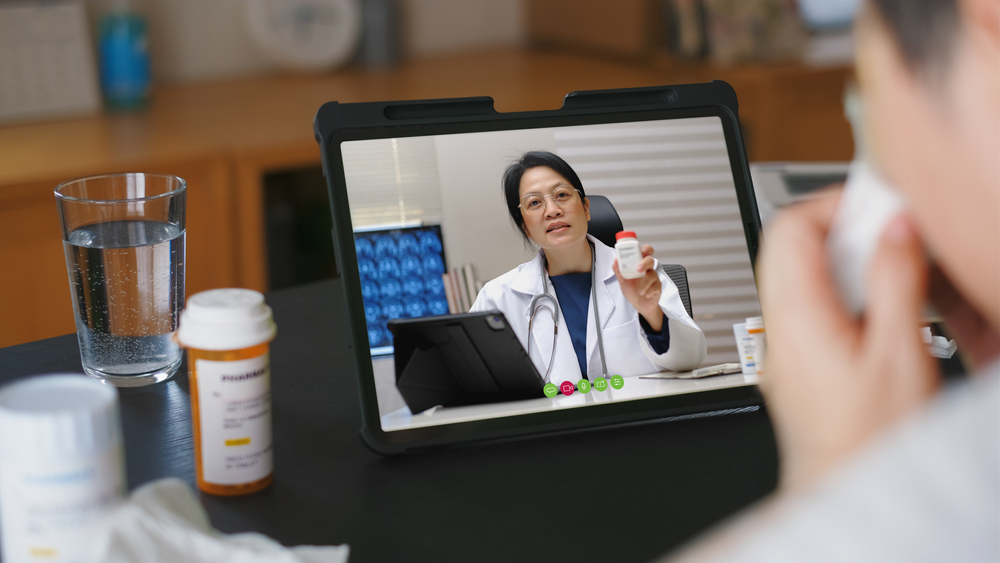 It has been two years since the pandemic propelled the use of telehealth to meteoric heights. To remain valuable and relevant in a post-pandemic world, what challenges must telehealth overcome?
The COVID-19 pandemic saw the meteoric rise of telehealth's popularity. By July 2021, the use of telehealth in the United States remained 38 times higher than before the pandemic, according to a McKinsey report. Among those surveyed, 40% of respondents said they will continue to use telehealth going forward, up from 11% before COVID-19.
Could telehealth be here for the long haul, and what hurdles must it overcome to stay valuable and relevant to healthcare?
Targeted use cases
While not all healthcare can be delivered in a virtual setting, telehealth has made a huge impact on mental healthcare, remote patient monitoring, and follow-up care. 
With telehealth, the distance from the nearest psychiatrist's office is no longer a barrier to getting effective care. It also reduces the stigma around mental illness, as patients can speak to a medical professional in the privacy of their homes or even during a break in their workday.
"Patients can meet with us in their car on a lunch break, which is wonderful. This is all about expanding access, and it achieves that," says Paula Zimbrean, MD, a Yale Medicine psychiatrist. "Plus, there are a lot of follow-up visits that can be done like this, and hopefully elements of telehealth will stay with us." 
Telehealth also offers a convenient and efficient way to deliver follow-up care. Video conferencing can help doctors detect potential side effects and complications, preventing avoidable emergency room visits. No longer worrying about travel time, absence from work, and childcare, patients can balance work, life, and healthcare.
Combined with remote patient monitoring, telehealth can vastly improve chronic care management. Collecting real-time health data, healthcare providers can quickly review results and modify treatment protocols immediately, instead of waiting for the next in-person office visit. 
"The potential for better outcomes, the potential for better evidence is very high," says Gurpreet Singh, U.S. Health Services Sector Leader at PriceWaterhouseCoopers. "And I think that there's a great opportunity there."
(Also read: Remote Patient Monitoring: Empowered Healthcare)
The challenge of infrastructure
Perhaps one of the biggest hurdles to making telehealth accessible to all is the lack of infrastructure. This is especially true in low- to middle-income countries, where many patients do not have access to mobile devices, high-speed internet, and a reliable electricity supply.
For healthcare providers, scaling telehealth benefits is a challenge without the right IT infrastructure in place. 
"Healthcare IT infrastructures have been increasingly bombarded by network demands for large-scale initiatives such as digitizing patients' health records or automating complex operational processes," says Philips. "The addition of virtual care systems, which typically combine video, audio and data streams, therefore runs the risk of exacerbating already sky-high bandwidth demands."
Surveying almost 3,000 healthcare leaders across 14 countries, the Future Health Index 2021 Report found that two of the biggest barriers to the adoption of digital health technologies are related to data. The first is difficulties with data management (44%), while the second is the lack of interoperability and data standards across technology platforms (37%).
(Also read: How the Internet of Medical Things Can Revolutionize Healthcare)
Evolving beyond the pandemic
Virtual-first health plans, where the initial point of contact is telehealth, have taken off. From insurance giants like Cigna and UnitedHealthcare to startups like Firefly Health, players both big and small are entering the fray.
"The purpose of the plan is for any interaction with a provider or with the health system, for that interaction to initiate digitally," says Oleg Bestsennyy, a partner at McKinsey.
Last month, tech giant Amazon announced that Amazon Care, its virtual healthcare program, will be available nationwide by the end of 2022. This hybrid service combines virtual and in-person visits and offers urgent and primary care services.
"Patients are tired of a health care system that doesn't put them first. Our patient-centric service is changing that, one visit at a time," says Kristen Helton, director of Amazon Care. "We've brought our on-demand urgent and primary care services to patients nationwide. As we grow the service, we'll continue to work with our customers to address their needs."
Global market intelligence firm IDC predicts that by 2023, 65% of patients will have accessed healthcare through a digital front door as healthcare providers scale service capacity beyond the physical walls of their facilities.
The pandemic magnified health inequities around the globe, but technology helped to bridge the gap–paving the way for a surge of digital transformation in the health sector. Digitally-enabled healthcare will decrease the burden on already overworked medical professionals while serving more patients--including those in remote areas.
With social distancing mandates being lifted and societies beginning to open up, healthcare providers must leverage technology to provide patient care that is more accessible, sustainable, and resilient. 
As one of the Top 21 EMS companies in the world, IMI has over 40 years of experience in providing electronics manufacturing and technology solutions. 
We are ready to support your business on a global scale.
Our proven technical expertise, worldwide reach, and vast experience in high-growth and emerging markets make us the ideal global manufacturing solutions partner. 
Let's work together to build our future today.
Other Blog