June 20, 2018
IMI Bags Best Overall Industry Paper at the ASEMEP National Technical Symposium 2018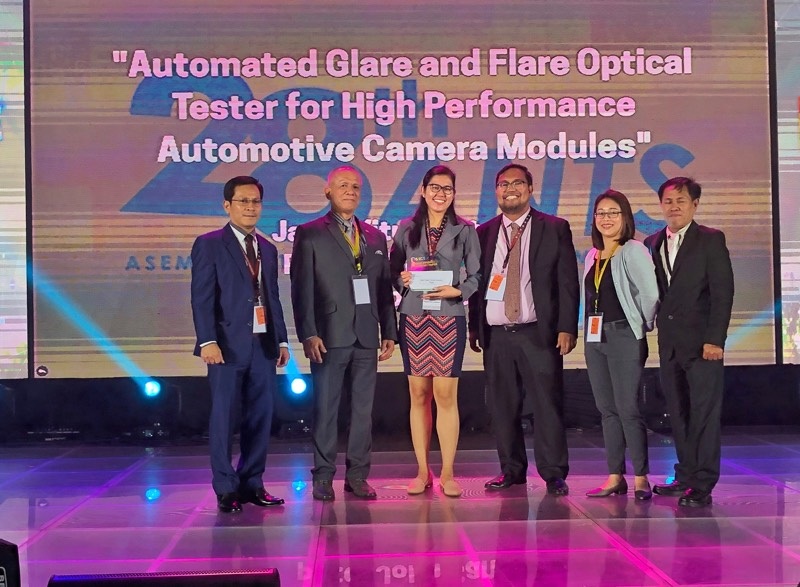 June 20, 2018, Laguna, Philippines. Integrated Micro-Electronics Inc.'s Jaziel Vitug-Gotauco, Randall Bryan Chua and Peter John Canoy of Test Solutions and Systems Development group recently won the Best Overall Industry Paper at the 28th Association of Semiconductor and Electronics Manufacturing Engineers of the Philippines or ASEMEP National Technical Symposium (ANTS) held last June 15, 2018 at the SMX Convention Center.
Vitug-Gotauco was also recognized as the Best Presenter in the Test Manufacturing Category, where she bested several presentations of technical works on innovation and improvement of test processes and technologies.
The winners of the Overall Best Paper received a plaque of recognition and Php 15,000 in cash. The recipients of the Best Presenter award for each category received a certificate of recognition.
The winning technical paper "Automated Glare and Flare Optical Tester for High Performance Automotive Camera Modules" highlighted the design and development of an automated straylight tester to screen out automotive camera modules with non-tolerable glare and flare.
A total of 145 technical papers were submitted and only 107 were qualified for presentation.
Top EMS Electronic Manufacturing Company IMI's Analytical Testing and Calibration (ATC) group had three (3) other technical papers as entries for the Reliability / Failure Analysis category. Although only two (2) papers qualified for the conference and were presented, all four papers submitted by IMI will be published.
ANTS is the annual national technical symposium of the Semiconductor and Electronics Industries in the Philippines Foundation, Inc. (SEIPI) manufacturing engineering community showcasing achievements through technical presentations that promote innovation and capacity-building. It features technical papers of engineering professionals from SEIPI-member companies.  The tracks include Assembly Manufacturing, Test Manufacturing, Product Engineering, Quality, Reliability and Failure Analysis Engineering, Support Systems and the academe.
About IMI
Integrated Micro-Electronics Inc. (IMI), the manufacturing portfolio of AC Industrial Technology Holdings, Inc., a wholly-owned subsidiary of Ayala Corporation is among the leading global manufacturing solutions providers in the world.  IMI ranks 18th in the list of top 50 EMS providers in the world by the Manufacturing Market Insider (March 2018 edition), based on 2017 revenues. In the automotive segment, it is the sixth largest EMS provider in the world per New Venture Research.
IMI specializes in highly reliable and quality electronics for long product life cycle segments such as automotive and industrial electronics.
For the automotive segment, IMI delivers customized solutions for safety and security, among others. It supplies cameras that are integral technology to the advanced driver assistance systems (ADAS). For the industrial segment, it manufactures security and access control devices, power modules, and building automation, among others. From its manufacturing plants in the Philippines, Bulgaria, China, Czech Republic, Germany, Mexico, United Kingdom and the United States, IMI provides engineering, manufacturing, and support and fulfillment capabilities to diverse industries globally. For more information, visit our website.
For more information you may send an email to mediarelations@global-imi.com
Other News